If you are a results oriented professional with a flair for problem solving, TrainingConnections is the right place for your talents.
8x Gold Performance Excellence Award Winner
TrainingConnections, LLC is a recipient of a Boeing Gold Performance Excellence Award for every year between 2009 - 2017. TrainingConnections, LLC is one of only 153 suppliers to receive the Gold level of recognition achieving this status for five consecutive years.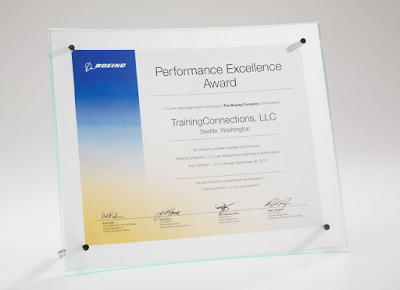 The TrainingConnections team, made up of Career Advisors, Instructional Designers, Educators, Trainers and other professionals, is commited to delivering world-class service that is customized to maximize each client's results.
Career Advisor in industrial setting to perform following varied work including: Advise program participants to develop a participant-driven individual educational/career plan and track participant progress Work closely with participants to locate internal or external educational and training resources.
Administer appropriate assessment instruments to clients.Promote benefits of the program and recruit new participants to use the program resources through association with employees, supervisors, union representatives and managers. Write employee resume(s). assist in employee job transfer and reemployment Support job fairs/safety fairs/recruiting events Work with integrated team across HR, Management and Labor, Education and Training organizations Must have excellent oral and written communication and technology skills
Minimum Requirements:
Masters Degree Preferred minimum Bachelors Degree in related fields Experience working with adults in Career Advising, Education and Training or related fields Ability to pass background check